Posts for: May, 2014
By Peter Elton DMD, PLLC
May 16, 2014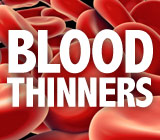 The proliferation of drugs to treat all manner of diseases and conditions has heightened concerns not only about general side effects, but also how a particular drug may affect treatments for other conditions. There are indications, for example, that drugs classified as blood thinners could cause complications for patients undergoing oral surgery.
Blood thinners like Warfarin are typically prescribed to patients with artificial heart valves or who are at significant risk for stroke, heart attack, or the formation of clots that could potentially damage the heart and lungs. The drug reduces the coagulation (clotting) mechanism in blood; aspirin taken regularly should also be considered a blood thinner.
As with any invasive procedure, blood thinners can complicate oral surgery. Blood doesn't clot normally and so bleeding during a procedure is more difficult to stop. This doesn't necessarily mean the surgery can't be performed. For one thing, many oral procedures like tooth removal involve little trauma to tissues and bleeding in the hands of a careful and experienced surgeon. The surgeon can also use hemostatic agents during surgery that will stabilize blood clotting, as well as suturing the incision in such a way as to reduce bleeding from surface capillaries. In the case of a tooth extraction, a bone graft placed within the empty socket not only reduces bone loss from a missing tooth, but can also enhance bleeding control.
In consultation with your medical doctor, it's also possible to temporarily stop or reduce your medication dosage in anticipation of a pending oral surgery. While it may not be safe to stop the drug altogether, a reduced dosage can ease the anti-coagulant effect and reduce any complications from bleeding that might occur during the surgery. You can then resume normal dosage soon after the procedure.
During your pre-op examination, it's important to let your surgeon know about any drugs you are currently taking, including over-the-counter drugs like aspirin. The oral surgeon will then be able to take the necessary steps, including working with your medical doctor, to ensure your surgical procedure is safe and uneventful.
If you would like more information on oral surgery precautions while taking blood thinners and other medication, please contact us or schedule an appointment for a consultation. You can also learn more about this topic by reading the Dear Doctor magazine article "Oral Surgery & Blood Thinners."
By Peter Elton DMD, PLLC
May 01, 2014
You may have seen Kathy Ireland on the cover of Sports Illustrated, but did you know that she is now a business mogul?
Through it all, Ireland has kept her model good looks, and that includes a bright, glowing smile. In a recent interview with Dear Doctor magazine she said that keeping her smile has required ongoing maintenance and more.
It seems that Ireland is a bit of a daredevil. She described a moment of fun with her children when she tried to stand in their wagon and "wagon surf" across her driveway. It ended badly when she crashed into her parked car and suffered a broken nose, split forehead and several broken teeth. "I learned that my love of adventure exceeds my coordination," she commented.
Ireland was born in Glendale, California in 1963. She demonstrated her drive to succeed early in life, starting at age 4 when she and her sister sold painted rocks from their wagon. Later she had a paper route. She began modeling at 17, with the goal of earning enough to pay for college or to start a business. In her successful modeling career she graced the covers of Glamour, Cosmopolitan, Harper's Bazaar and Sports Illustrated. Her first cover for Sports Illustrated, the publication's 25th Anniversary Swimsuit Edition, was the magazine's best-selling swimsuit issue to date.
In 1993 she founded her marketing and design firm, kathy ireland Worldwide. Now a billion-dollar industry, the firm sells fashions such as wedding gowns and bridesmaid dresses, as well as a wide range of items for home and family.
She has also written a number of books teaching others how to be successful — based on her own experience — as well as three children's books.
Discussing her oral health, Ireland says that she required serious professional assistance on more than one occasion. When she was a child she knocked out a tooth and later knocked it loose again. As an adolescent she wore braces for about three years. After the driveway incident she needed numerous veneers and dental implants to replace a lost tooth and restore her smile.
Her maintenance routine includes regular flossing and brushing, and she has her teeth cleaned every six months. She keeps up on her reading about the latest in research on dental health, and encourages her three children to floss and brush their teeth, to limit eating sweets and to do what they can to avoid injuries to their mouths and teeth.
Contact us today to schedule an appointment to discuss your questions about how to maintain your own smile. You can also learn more by reading the Dear Doctor magazine article "Kathy Ireland."