Posts for: July, 2014
By Peter Elton DMD, PLLC
July 17, 2014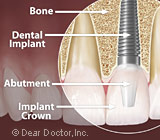 Dental implantation is the premier option for tooth replacement available today. While acquiring dental implants does involve a surgical procedure, don't let that deter you — with proper preparation the procedure is relatively minor and routine.
Implants are root replacements inserted directly into the jawbone to which a life-like, artificial crown is secured (strategically placed implants can also support fixed bridges or removable dentures). They're typically made of titanium, which is osseophilic or "bone-loving": bone will grow and adhere to the implant over a few weeks time.
Pre-planning can help minimize discomfort during and after the implantation procedure. We first conduct a radiographic examination of the site with x-rays or CT imaging; this enables us to assess the site's bone quality and quantity. We can also create a surgical guide from the imaging to pinpoint the precise location for an implant to ensure a successful outcome.
Before beginning the procedure, we numb the area with a local anesthesia (we can also administer a sedative or other relaxation medication if you're experiencing mild apprehension). The procedure often begins by creating a flap opening in the gum tissue with a few small incisions to access the bone. Using the surgical guide, we then begin a drilling sequence into the bone that progressively increases the size of the hole until it precisely matches the size and shape of the implant.
When the site preparation is complete, we remove the implant from its sterile packaging (which minimizes the chance of infection) and immediately insert it into the prepared site. We verify proper positioning with more x-rays and then suture the flap opening of the gum tissue back into place.
Thanks to both the pre-planning and care taken during surgery, you should only experience minimal discomfort. While narcotic pain relievers like codeine or hydrocodone may be prescribed, most often non-steroidal anti-inflammatory drugs like aspirin or ibuprofen are all that's needed. We may also prescribe an anti-bacterial mouthrinse (with chlorhexidine) to assist healing.
In just a few weeks your custom-made restorations will be attached to the implants. It's the completion of a long but not difficult journey; the resulting smile transformation, though, can last for many years to come.
If you would like more information on dental implants, please contact us or schedule an appointment for a consultation. You can also learn more about this topic by reading the Dear Doctor magazine article "Dental Implant Surgery."
By Peter Elton DMD, PLLC
July 02, 2014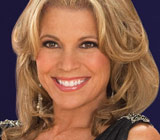 Describing Vanna White, co-host of the hit television game show Wheel of Fortune as friendly is an understatement. Yes, a good portion of the credit goes to her bubbly personality; however, you can't look at her without noticing her world-famous smile.
During an interview with Dear Doctor magazine, Vanna shared some of the secrets to her trademark smile. Secrets that she is instilling in her children.
"I floss every day and I brush my teeth at least twice a day — morning and night — and sometimes after lunch." She added, "I think that flossing is the most important thing. I believe that dental floss helps a lot, as it keeps your gums strong and looking younger." And when asked about how often she has her teeth professionally cleaned she replied, "...every four to five months because I get a lot of plaque buildup."
A typical dental hygiene visit is one that involves prophylaxis, a dental (and insurance) term for scaling and or polishing procedures to remove plaque and calculus (tartar) from the crown or portion of the tooth that you can see. Scaling is a procedure where we use special hand-held instruments and/or ultrasonic scalers to remove plaque, bacteria and tartar that can coat your teeth causing them to feel rough or fuzzy. To polish your teeth, we use a rubber polishing cup, prophy paste and a motorized instrument that removes bacterial plaque and surface stains. This is usually the last portion of a routine cleaning because it leaves your teeth feeling smooth and shiny.
However, if you have been seeing blood when you brush your teeth or while flossing, you have the telltale signs of periodontal (gum) disease. During your cleaning appointment, we will clean below the gum line to treat and manage your periodontal disease (an infection of the gum and jaw bones). We may also discover that additional, deep-cleaning treatments (such as root planing) may be needed to treat and manage your periodontal disease.
To learn more about this topic, continue reading the Dear Doctor magazine article "Teeth Polishing." Or you can contact us today to schedule an appointment so that we can conduct a thorough examination and cleaning. And if you want to read the entire feature article on Vanna White, continue reading "Vanna White."