Posts for: January, 2015
By Peter Elton DMD, PLLC
January 29, 2015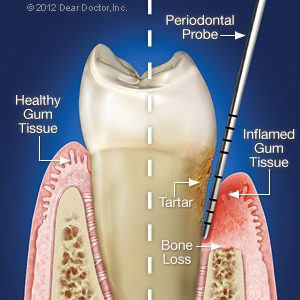 When we refer to periodontal (gum) disease, we're actually talking about a family of progressive, infectious diseases that attack the gums and other tissues attached to the teeth. Caused primarily by bacterial plaque left on tooth surfaces from inefficient oral hygiene, gum disease can ultimately lead to tooth loss.
There's only one way to stop the infection and restore health to diseased tissues — remove all of the offending plaque and calculus (hardened plaque deposits) possible from tooth and gum surfaces, including below the gum line at the roots. The basic tools for this task are specialized hand instruments called scalers or ultrasonic equipment that vibrates plaque loose. A series of cleaning sessions using these tools could stop the infection and promote healing if followed with a consistent, efficient daily hygiene habit.
There are times, however, when the infection has progressed so deeply below the gum line or into the tissues that it requires other procedures to remove the plaque and infected tissue. One such situation is the formation of an abscess within the gum tissues, a pus-filled sac that has developed in response to infection. After administering local anesthesia, the abscess must be treated to remove the cause and allow the infectious fluid to drain. The area is then thoroughly flushed with saline or an antibacterial solution.
The gum tissues are not completely attached to the tooth surface for a small distance creating a space. These spaces are called periodontal pockets when they are inflamed and continue to deepen as the disease progresses. These inflamed and sometimes pus-filled pockets form when tissues damaged by the infection detach from the teeth. If the pockets are located near the gum line, it may be possible to clean out the infectious material using scaling techniques. If, however, they're located four or more millimeters below the gum line a technique known as root planing may be needed, where plaque and calculus are shaved or "planed" from the root surface. As the disease progresses and the pockets deepen, it may also be necessary for surgical intervention to gain access to the tooth roots.
To stop gum disease and promote soft tissue healing, we should use any or all treatment tools at our disposal to reach even the most difficult places for removing plaque and calculus. The end result — a saved tooth — is well worth the effort.
If you would like more information on treating periodontal disease, please contact us or schedule an appointment for a consultation. You can also learn more about this topic by reading the Dear Doctor magazine article "Treating Difficult Areas of Periodontal Disease."
By Peter Elton DMD, PLLC
January 14, 2015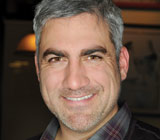 If (heaven forbid) you were to lose your two front teeth in an accident, and you needed to choose a tooth replacement method, which one would you pick? Once upon a time, that question faced Taylor Hicks, the former American Idol winner who now plays a regular gig in Las Vegas. Back then, when he was a high-school basketball star, Hicks happened to receive a blow to the mouth at a playoff game. As fate would have it, he also happened to be the son of… wait for it… a dentist. So what did he do?
The down-to-earth song stylist recently told Dear Doctor magazine how, immediately after the accident, his father administered first aid, getting him back into the game before it ended. Then, a short while afterward, Hicks had the gaps in his smile fixed with dental implants.
We think he made a good choice. While there are other tooth replacement systems, none offer the benefits provided by dental implants. In case you need a reminder, here are some facts about dental implants:
They have the highest success rate of any tooth replacement procedure — above 95%
They are the most durable type of replacement tooth — with proper care, they can last for the rest of your life
They look and "feel" completely natural, and require no special maintenance
They are the only tooth replacement system that essentially stops bone loss in the jaw (a natural consequence of tooth loss), helping to maintain good oral health
Over the long term, they can offer the best value for your investment in dental care
What makes dental implants work so well? Unlike bridgework or other methods, lifelike implant crowns are supported by a screw-like titanium metal insert, which actually becomes fused with the bone of the jaw. This not only provides the prosthetic teeth with a rock-solid anchorage, but it also helps provide the physical stimulation that bone needs to keep itself healthy. Lacking this stimulation, the jaw bone begins to atrophy and erode (melt away) — and if left untreated long enough, it can result in the appearance of premature aging and other oral health problems.
So if you have missing teeth — whether from an accident, disease, or another cause — contact us or schedule an appointment for a consultation, and find out whether dental implants might be right for you. You can learn more in the Dear Doctor magazine articles "Dental Implant Surgery" and "Dental Implants."