Posts for tag: x-rays
By Peter Elton DMD, PLLC
July 18, 2017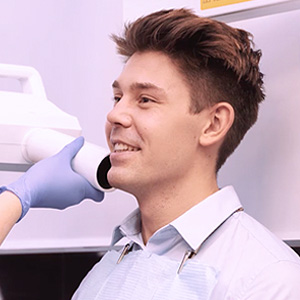 X-rays are such a routine part of dental care that it's easy to overlook how much this technology has revolutionized detecting and treating tooth decay. It's safe to say x-rays have helped save hundreds of millions of teeth over the last hundred years.
Thanks to its unique properties these invisible electro-magnetic waves give us precise images of the interior structure of teeth and gums. It's so precise that we can clearly detect even a small spot of softened, decayed tooth structure on an exposed x-ray film, often before it becomes visible to the naked eye. As a result, we can begin treating the decay earlier, minimizing the damage and increasing the chances for preserving the tooth.
There are a variety of ways we can utilize x-ray technology in diagnosing dental problems. The one, though, that's used the most is called the bitewing. The name comes from wing-like tabs extending out from a thin frame holding a segment of unexposed film. A technician places the frame inside the patient's mouth with the film on the tongue side of the teeth, and has them bite down on the tabs to hold the frame still. They then aim a camera at the patient's outer cheek, which then emits a very short burst of x-ray energy to expose the film.
Bitewings are popular because they give a full view of the back and side teeth, where decay is often hard to detect, with very little radiation exposure to the patient. And as x-ray technology has progressed over the years with digital processing and more efficient equipment, we can acquire sharper images with even less exposure. We've also developed standard protocols for when and how often we perform x-rays, so that we're getting the most diagnostic benefit for the least amount of exposure time.
Those few minutes getting an x-ray may seem routine, but the benefits to your dental health are truly amazing. The bitewing and other forms of x-rays play a huge role in helping us keep your teeth as healthy as they possibly can.
If you would like more information on x-ray diagnostics, please contact us or schedule an appointment for a consultation. You can also learn more about this topic by reading the Dear Doctor magazine article "Bitewing X-Rays."
By Peter Elton DMD, PLLC
April 16, 2014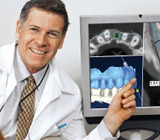 There's no question that x-ray imaging has transformed how we diagnose and treat dental problems. But traditional x-rays have at least one limitation — they are two-dimensional portraits that can only provide a portion of the information available. If you could view the interior of teeth or other mouth structures in three dimensions, you would have access to more detail about their conditions.
Computerized axial tomography (CAT) scanning has brought that third dimensional view to physicians generally and, in more recent years, to dentists. The latest development in this technology is known as Cone Beam Computed Tomography (CBCT). A CBCT emits a spiral of x-rays that form a cone-shaped beam that is caught on detectors. Using digital geometry, the CBCT then generates a three-dimensional image by precisely "layering" this large series of two-dimensional images caught by the detectors on top of each other.
CBCT is already making a significant impact in dentistry and its related specialties. Dentists now can visualize with amazingly precise detail the three-dimensional anatomy of the teeth, jaws, facial bone and other structures in the head and neck area. Orthodontists can examine the growth stages of a patient's teeth eruption to better prepare treatment strategies. Oral surgeons can determine the precise location of impacted teeth and their exact proximity to nerves and sinuses. And, periodontists who specialize in gum disease and treatment can better determine the level of bone loss and gum attachment for more accurate diagnoses and effective treatment.
While a CBCT delivers a higher dose of x-rays than a traditional panoramic radiograph, it actually delivers a lower dosage than a digital standard 18 film full mouth series or than conventional medical CT scanners. The field of view also determines the level of x-ray exposure — the smaller the field of view (and more concentrated the x-rays) the higher the dosage and the better detail of anatomy.
The good news, though, is that a low dosage CBCT scan can still provide a level of detail that can provide dentists with a very accurate view of anatomical features, including bone density and mass, in three dimensions. That capability can vastly elevate the accuracy of diagnoses and lay the groundwork for effective dental treatment.
If you would like more information on the uses of CBCT scanning to help you maintain dental health, please contact us or schedule an appointment for a consultation. You can also learn more about this topic by reading the Dear Doctor magazine article "CAT Scans in Dentistry."